The Sciemetric in-process testing (IPT) philosophy is to integrate measurement, monitoring, data collection and reporting into each step of the manufacturing process, and build a birth history of every part that can be data mined at any time for insight.
IPT means catching defects as they occur, when it is much less costly and disruptive to address them. It also means the ability to understand why the defects occurred. For over 30 years, Sciemetric has been leading the development of technologies for front-line defect detection and combining them with the means to use the information acquired during these processes to gain insight.
Test any manufacturing process on your production line
Sciemetric products can be used for virtually any test or process in discrete manufacturing. Explore some of the common test and monitoring applications in this section.
---
One common solution across your line
Use the commonality approach to simplify testing
Because Sciemetric technology can be used for applications across the production line, implementation and ongoing management of the test systems is simplified.  Sciemetric delivers a standard product platform strategy that provides common hardware and software for use across the plant.
Fewer types of test systems to understand and manage
Common look and feel reduces training requirements and means a shorter learning curve
Easier to clone a station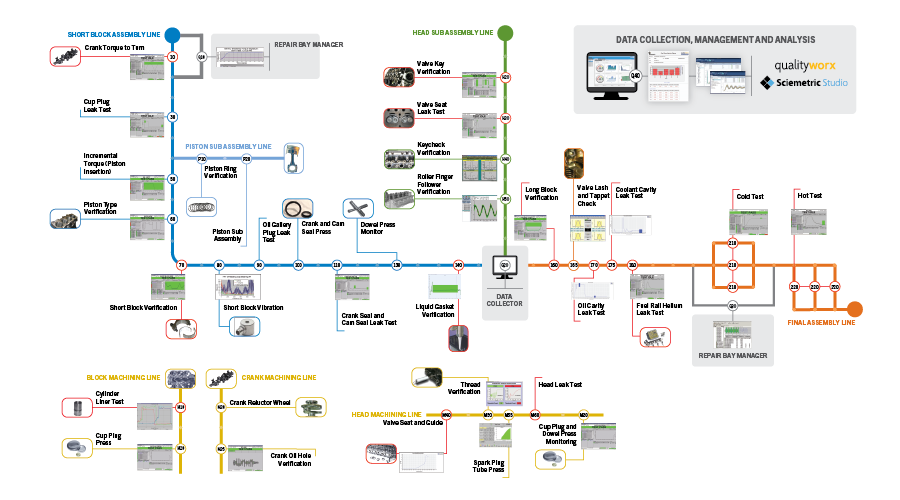 ---
IPT means better quality parts, fewer defects
Make it right the first time
Continuous improvement comes from good visibility and a diligent approach to understanding the root cause of all process failures using data-driven diagnostics and thorough reporting. Contact us to discuss how IPT can be applied on your production line.