Leak testing solutions you can trust
Our innovative technology combines supreme accuracy and reliability, with faster test cycle times and precise measurement capability, making it a powerful tool for defect detection and productivity on leak test assembly lines.
We offer leak testers for small and large volume applications, applying pressure decay, mass flow, vacuum and more. You can rely on our technology for catch small- and large-volume leaks in any part where seal integrity is critical.
Sciemetric also understands the business side of leak test on your production floor. Users of our leak detectors have:
Reduced headcount for leak testing;

Avoided capital expenditures on additional leak test stations to meet production requirements by optimizing their leak test;

Improved efficiency and reduced costs by bringing leak test in-line;

Found leak defects that previously went unnoticed, reducing repair costs and leak warranty issues; and

Achieved the above and more with an average payback time of 4-6 months.
Talk to us about your leak test.
At the heart of our leak test systems is the process signature technology Sciemetric pioneered for manufacturing in the 1990s. This waveform technology uses complex algorithms and hundreds of data points to provide the most accurate possible defect detection possible. Using Sciemetric's manufacturing analytics, customers can use this data to optimize the test or determine the root cause of any issues.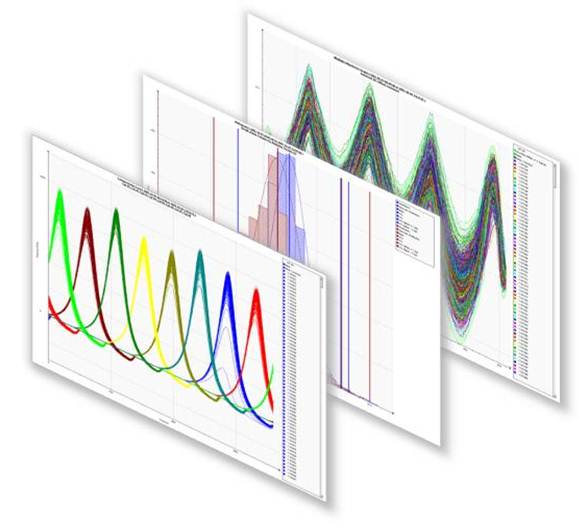 Sciemetric's leak testers are built for Industry 4.0 and IIoT to enable use of the information collected. The data can be pushed to a database for future analysis and included as the part's overall birth history for complete traceability. Bringing together the data from the leak test with other stations across the line with the tools to review, report and analyze is a unique capability offered by Sciemetric. Many claim to use signature analysis and show a leak curve during tests but pass/fail is often determined by simplistic criteria or only limited data is stored after the test.
Our systems have innovative packaging and design to ease their implementation into the production line and enhance leak test accuracy and reliability and reduce leak test cycle times. Review our leak products for details.

A different kind of leak test company

Many manufacturers consider leak detection one of their top challenges for quality issues and productivity bottlenecks. Sciemetric has the answer, with proven ability to find defects in manufacturing.
Having designed and delivered thousands of different types of test and monitoring applications, including leak, over the past 20 years, Sciemetric has a broad understanding of manufacturers needs on the production line - improving product quality, and the bottom line.
We have expanding our leak detection systems to integrate the feedback from customers and address their leak test challenges. The results so far has been overwhelming.
In competitive trials managed by customers, Sciemetric has won against the incumbent every time, meeting and often exceeding quality, cycle time and Gage R&R targets.
Customers who have implemented Sciemetric leak test equipment have experienced payback on their investment within 6 months or less.
Our leak detection systems are in use around the world by trusted manufacturers in consumer goods, automotive, medical devices, industrial and off-highway.
Leak test almost anything
Sciemetric's leak detection systems can handle leak testing parts with volumes of less than 1cc to 1,000,000cc while delivering the speed and accuracy manufacturers require. Our leak testers have been used in various industries including consumer goods, powertrain & components manufacturing in both automotive and off-highway, industrial applications and in medical devices.
Test types include:
Pressure decay

Vacuum

Flow

Blockage

Volume measurement

Burst testing

Helium evacuate and fill

Customizable pressure and flow sequencing for more demanding pressure and flow test applications

See the product information to find the product best suited to your leak test requirements and for details on test types, pressure ranges, and more.
Let us help you find the right fit for your leak test
If you're having problems with manufacturing leak test, let us help you find the right solution. Contact us to help determine which leak test type and system will meet your targets for leak test cycle time and gage R&R. Our leak test specialists will help to identify any factors affecting the test to identify the right accessories and approach to the test.